Teaching About Abortion at the ExCollege
"My students have given me so much hope" - Teaching About Abortion at the ExCollege.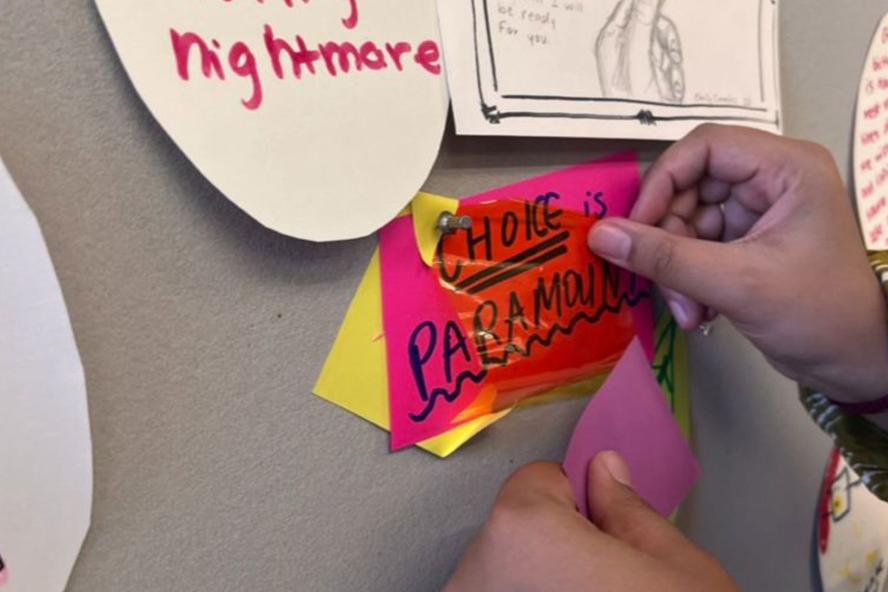 On the evening of May 2nd, 2022, a leaked draft opinion from Supreme Court Justice Samuel Alito suggested that the Supreme Court would overturn Roe v. Wade, the landmark 1973 decision establishing the Constitutional right to abortion. The next morning, ExCollege Associate Director Amy Goldstein came up with the idea of offering a course on abortion at the ExCollege: "I just sat at breakfast and on my phone wrote down a list of topics that could be in this course." With the support of ExCollege Director Howard Woolf, she reached out to other departments to see if any response was planned. After organizing a meeting with representatives of related departments and getting some initial feedback, it was clear to Goldstein: The ExCollege was the perfect place for this course, and the structure of the ExCollege meant they could act quickly. However, entering a new course into SIS, finding an instructor, and getting students registered for the course -- during the beginning of Spring semester exams -- posed a challenge. Goldstein recalls, "Students had already registered in April. So here we are during exams, and we're talking about putting a course out for the fall, which we almost never do at that point in the semester."
Nevertheless, Goldstein wrote a course description and made a flier, and started postering around campus before the listing was even active in SIS. "All these students were out on the hill, studying and hanging out, and I just went around and handed out fliers to students, saying we're putting out this new course for the fall, can you help spread the word?"
By May 11th, the first few students had registered, even though the course still needed an instructor. Networking with her law school connections, Goldstein reached out to Reproductive Equity Now (formerly NARAL Pro-Choice Massachusetts). Rebecca Hart Holder, President of Reproductive Equity Now, recommended Sarah Lee Day for the job. Goldstein tells me, "I talked to Sarah Lee on Zoom, and she seemed phenomenal. The background that she brought to it, the work she's doing now, made her a great candidate. She approached the topic with a very nuanced view and wasn't assuming that all Tufts students would be pro-choice." Subsequent meetings with Howard Woolf confirmed it, and the course was born: Sarah Lee Day would teach The Right To Abortion: Where did it come from? Where did it go? Can we get it back?
By the end of the summer the course was full, and it has proven to be a major success, so much so that Sarah Lee Day will be teaching the course again in the Spring 2023 semester. This semester though, it's not just Day who is teaching about abortion in the ExCollege. Throughout the summer, and after the Supreme Court officially overturned Roe v. Wade on June 24th in the landmark case, Dobbs v. Jackson Women's Health Organization, Explorations Leaders and Visiting Lecturers alike considered how they would approach this topic in their classes.
From the history, activist, or legal perspective, to discussing sex education and maternal health, abortion is being taught throughout ExCollege courses, from a variety of viewpoints. I caught up with a few of these instructors to talk through what teaching abortion meant, to both them and their students.
"Abortion is Maternal Health" - Shubhecchha Dhaurali, Explorations Leader
Shubhecchha Dhaurali, a senior majoring in community health, wanted to make sure the students in her course, Our Moms Matter: Exploring America's Multifaceted Maternal Health Crisis, understood that abortion is maternal health: "I think for first years who are pre-health, or want to go into reproductive health fields," it's important to understand that "abortion is necessary. [It's] a medical procedure and should be treated as a medical procedure."
Dhaurali was inspired to teach this course by her work at the Tufts' MOTHER lab (Maternal Outcomes for Translational Health Equity and Research), which focuses on research around maternal health outcomes, specifically for women of color. In her research, she created a logic model that showed how "states with already restrictive abortion laws have the most maternal morbidity and maternal mortality rates in the US." Dhaurali also looked at the consequences of complications during pregnancy and childbirth on maternal health outcomes: "Issues that can include gestational diabetes, hypertension, and other disorders…if left untreated [can] lead to maternal death." In creating this course, Dhaurali combined her research, as well as her experience in advocacy work at the MOTHER lab, to create a course that would facilitate this transfer of knowledge to first year students. The syllabus covers topics such as doulas, health insurance, health education, and the politics surrounding maternal health. "Policy and medicine and medical care are so interconnected, politics really impacts what kind of medical care doctors or physicians or nurses can provide. It's really the difference between life and death."
Although these issues can be daunting and overwhelming, Dhaurali wanted to make sure that her class didn't just discuss the issues. The latter half of the class focuses on creating steps for change. Dhaurali's students look at "all the solutions and people who are working to improve these health inequities and trying to change structurally built systems…to reform [these systems]." One way in which these inequities can be ameliorated is through doulas. "In recent literature," she tells me, "doulas have been shown to improve maternal health outcomes, especially for Black working people." Indeed, doulas even have a place in abortion care. One of Dhaurali's assigned readings discusses integrating doulas into first-trimester abortion care.
Students, through their final projects, ask questions such as: "How can you look at organizations that already exist" to help make change, and "how can you create your own?" The final project has students research organizations, look at the interconnectedness of healthcare, access to reproductive health rights, and what the future of maternal health might be.
Dhaurali remarks that though there are feelings of frustration following the Dobbs decision, there are also feelings of openness and resilience. Her students have been comfortable enough to share personal stories regarding reproductive healthcare and abortion, and they have meaningful conversations about where to go from here. "Learning how to adapt to this new situation is necessary in order for change to happen. And I think it's been difficult talking about abortion specifically, it's such a sensitive topic because it's very emotional; it touches your humanity." Now that abortion is no longer federally protected, the question Dhaurali asks is "what can we do?"
"How do we make decisions about sex? And what external factors inform that?" - Jaidyn Appel and Cora Kakalec, Explorations Leaders
Jaidyn Appel, a senior majoring in Political Science, and Cora Kakalec, a senior majoring in Community Health and Civic Studies, came to teach the Explorations course, Health, Politics, and Education of Sex in our Society, because it felt like a good crossover between both of their majors. Coming to Tufts as first years, they were surprised that some conversations about sexual health on campus were not inclusive, and they wanted a course that would remedy this.
When asked about teaching abortion, Kakalec tells me that it was a topic that was "embedded within a lot of other topics in the course." It is one piece of a broader context in which people interact with politics, society, and healthcare. An example of this is shown in a Moth podcast they teach, in which a woman tells her story about getting an abortion for a non-viable 20-week pregnancy. Because the narrator of the podcast, Robin Utz, lives in Missouri, where the abortion ban starts at 21 weeks and 6 days, she only has a few days to get an abortion. And then, beyond the healthcare system, the Explorations leaders explain that "she encounters the government side of things." Utz describes the papers she must sign, issued by the government, that testify "I have been offered to hear my daughter's heartbeat," along with other language she finds offensive. "My grief was interrupted by outrage," she says in the podcast. In their classes, Kakalec and Appel ask the questions: "What exists behind that language?" And for rhetoric specifically, "What does it mean to be pro-life or pro-choice? How could abortion be different if we removed this rhetoric from it? Would the pro-life movement gain less traction if they were called anti-choice?"
In addition to abortion, the peer teachers take an interdisciplinary, intersectional approach as they teach about the foundations of sexual health developments. Appel notes, "A lot of the things we view as positive developments in sex today are founded on racist practices and ethnic discrimination," such as the development of birth control and testing methods that have historically "left a lot of people excluded" from these processes.
Overall, the course focuses on the questions of knowledge and decision-making: "How do we make decisions about sex? And what external factors (such as power dynamics) inform that?"
"Abortion is inextricably intertwined with everything we're talking about." - Jeanna Kinnebrew, Visiting Lecturer
Jeanna Kinnebrew, instructor of Let's Talk About Sex: The Evolution of Sex Education in the United States, has noticed a shift in how abortion is talked about. Kinnebrew has worked in the sexual health field for many years: she spent over a decade working with Planned Parenthood of Tennessee and the ACLU of Tennessee, and is a PhD candidate at Boston University, where she teaches about sex education. "In 2005," she tells me, "the rhetoric was choice. We have the right to choose. We have the right to make decisions." Although that language is still being used, she notes that people are using the word abortion, and dropping the conciliatory language of the past. "We're going to call it what it is, and it is part of our reproductive lives, and we're going to say the word, and there's nothing wrong with the word. It's not a bad thing, and we're going to utilize this right if we need to."
Kinnebrew's class came out of a desire to look at how people learn about sex, from whom, and what those messages about sex are. From her time working at a Planned Parenthood, Kinnebrew noticed that a lot of issues that people came into clinics for could have been avoided with better sexual education. She recalls, "I got to talk to women, mostly women who are there for abortion services, but also pap smears, exams, STDs, all these kinds of things. And so many of these women had no idea how they had gotten pregnant. Some of them didn't know how they had gotten an STD. Not that it mattered how people ended up there, but it was just such a wide range of life experiences and, not all of it, but a lot of it could have been avoided or helped, if people had decent sex education."
As for how abortion is taught in Kinnebrew's class, she states that "abortion is inextricably intertwined with everything we're talking about." When you talk about birth control, you have to talk about the failure of birth control, and you have to talk about abortion. Abortion "is something that has been part of human history for forever. It was only criminalized in the US in the 1870s and 1880's. It's something that's been part of our society, and even at points in time when it was illegal, or illegal to talk about, it always comes up. Everything that we read has to grapple with that, if it's talking about birth control."
So how are students engaging with this? Kinnebrew notes that since Roe v. Wade was overturned, students not only have to grapple with abortion, but technological privacy as well. Students wonder, "Should I use this period tracking app?" when in other states, digital footprints may be used to prosecute people for getting abortions. And beyond technology, there's life decisions as well. Kinnebrew tells me, "The conversations we have in class are set around the fact that most students are happy that it's still legal in Massachusetts, but they're very worried about their futures in this country. If for some reason they have to go somewhere where it's not legal... If you apply to grad school and the grad school that accepts you is in a state [where abortion is not protected], what do you do? Do you turn that down, or do you go?"
"The questions of abortion aren't new questions. People have tried to either promote it, regulate it, control it, or constrain it in various ways." - Tina Wei, Visiting Lecturer
Abortion, as Kinnebrew articulates, "has been part of human history forever." Tina Wei's class, Self-Help in American Culture: Historical & Critical Perspectives, opened up this history during a field trip to the Center for the History of Medicine in Boston. On an evening in late October, a group of students stood in the basement of Harvard's Countway Library, gathered around a table that had, among other historical medical models and artifacts, a calculus: a buildup of minerals found in the body, like a kidney stone. This particular calculus from 1842 was found in a woman's uterus, formed around a goose quill, after a home abortion.
(From left to right) Two students, Librarian Jessica Murphy, and Visiting Lecturer Tina Wei look at an exhibit.
After the visit, I caught up with Dominic Hall, the curator of the Warren Anatomical Museum, who, together with Jessica Murphy, the Center's Public Service Librarian, put together the exhibit for Wei's class. He explains to me the process of curating items for the museum, and how this particular case stood out to him. Among other calculi and mineral deposits that were offered to the museum, this case was accompanied by a Boston Society for Medical Improvement journal from 1847. Here, the case of the abortion is documented, along with language about how the calculus was extracted. Hall emphasizes that it "was tied to abortion. It's not coded language: the catalogue uses the word abortion." As he considers the case, Hall speculates. "I'm thinking…she's 40. I'm sure she's concerned. I'm sure every woman is concerned at that period…Maternal death is really high, a lot of times from infection, but also from complications with pregnancy." There is a question underlying the pregnancy: "Is this going to kill me?" According to the medical journal, even though the woman had complications, the pregnancy was terminated, the calculus was removed from the body, and the woman lived.
In addition to abortion, Wei's class approaches the subject of women's reproductive health from a self-help model, examining, in part, how health activists created their own knowledge when they weren't served by established medical institutions. In addition to studying the Black Panthers' free clinics and the ACT UP AIDS activism, Wei's class looks at how "women with certain political commitments rallied around the notion that they weren't served by the patriarchal medical system."
Wei notes that "all the things the activists did in terms of research, publications, self-help clinics, DIY gynecology, pelvic exams of themselves, all this kind of dissemination of practices and information … directly challenged the medical establishment." One part of this activism was getting human models back into gynecological medical training. Hall, during the class visit, showed the students "Gynny," a plastic Pelvic Teaching Model used in medical school. The activists in the 1970's pushed back against using plastic models, as there was no human element for male gynecologists practicing these procedures. Hall tells me it's the story "of women medical students actually trying to organize around Gynny and take some control about how to teach basic exams." It was about "fundamental exams and making them more human" to doctors. Other things that the course touches upon are books, pamphlets, and informational campaigns about birth control, specifically from the Boston Women's Health Book Collective. These materials helped to educate women so that they could make informed decisions about their bodies and their reproductive health.
Wei is a PhD Candidate in the history of science at Harvard University. When creating this course, she explains that "the concept of self-help is what people do to help themselves, either as an individual or as a collective." When considering self-help health activism, Wei notes, "Women have been experiencing abortions for a really long time. The questions of abortion aren't new questions. People have tried to either promote it, regulate it, control it, or constrain it in various ways depending on the social values and technologies of the era."
"The deep level in which students are grappling with the material gives me a tremendous amount of hope." - Sarah Lee Day, Visiting Lecturer
Sarah Lee Day is a reproductive justice policy lawyer, working at Reproductive Equity Now. "When Amy approached me about this class I was thrilled at the prospect. I think I had a draft syllabus within an hour of her bringing the idea to me." Working from the legal perspective, Day knew she needed to cover Roe v. Wade, but "in order to cover Roe, you also have to talk about Griswold," the 1965 case establishing the right to contraception for married women. "You have to talk about the foundation of Roe. And then it's not enough to go from Roe to Dobbs, because that leaves out a huge portion of the story."
Indeed, over the course of Day's 13-week syllabus, the story of abortion and the legislation surrounding it comes into view. The course asks questions such as, how was Roe overturned? What was the initial aftermath of Roe? How did the Hyde Amendment (which prohibited federal funding for abortion) change abortion access? How do courts evaluate medical evidence? Looking backward as well as forward, the class examines what led to Roe, and what it means now that it's been overturned. However, Day makes clear that Roe was never enough: "Roe never properly secured this right. Three years later we had the Hyde Amendment." Day says that she was "honest about the shortcomings in Roe, and what could have been done better to secure the right to abortion." She asks, "Could we re-imagine this? Is there a way that this right could have been secured better in 1973? And now, what would that have to look like?"
In addition to looking at these landmark decisions, Day hosted a panel with Jessie Rossman, a Managing Attorney of the ACLU of Massachusetts, Claire Teylouni, Regional Director for Senator Ed Markey and a former Legislative Aide, and Dr. Laurent Delli-Bovi, an abortion provider and Medical Director of family planning facilities. "It was so thorough and incredible. And hearing these first hand experiences," student Lauren Naehu tells me, was extremely valuable.
And in turn, Day has thoroughly enjoyed teaching the course: "This class has given me so much hope. They understand intersectionality in a way that previous generations didn't. They understand interlocking systems of oppression." Day notes that in her generation, there was an emphasis on education: "How do we educate? How do we open people's eyes to positionality," to the idea that intersecting oppressions are real? This generation, Day says, has already "realized these barriers. I think future generations are actually going to be able to break down these barriers because the first thing is seeing" the barriers in the first place, and then creating change. "The deep level in which they're grappling with the material gives me a tremendous amount of hope."
Final Thoughts
Throughout these ExCollege courses, instructors have been impressed with the level of care and openness the students show towards these topics. Dhaurali tells me "I'm happy that my students feel comfortable enough to share their personal stories." Appel observes that there's even been a shift in the last few years about how open students are: "There's a definite shift in perspectives on sexuality and sex and things like that in the younger grades. So I think that it's really a normal topic to think about."
The students, too, reflect on how important these courses have been to their personal and professional development. Naehu mentions that although she "joined Day's class for my personal knowledge, to be able to protect myself with the information that I have, and what I know is legally available to me," as a future health provider, it's important to have this information that is "really crucial to how we'll be able to take care of patients… I'm going to leave this class with a really good understanding of how abortion is provided, and what it looks like." Another student in Day's class, Veronika Coyle, says that "After taking the class, I feel like I have a much deeper perspective on where things went wrong" after Roe v. Wade. She notes that "it's important for us to all have a solid understanding of our rights, of how the legal system works, and how we can make it work for us, and how we can fight when it doesn't work for us."
Sarah Lee Day's course, EXP-0024: The Right to Abortion, will be offered again in Spring 2023. For more information, please visit excollege.tufts.edu.
Julie Krzanowski (she/they) is the Program Coordinator at the ExCollege, where they work on peer teaching programs. They hold a BA in Education from Lesley University and an MA in English from UMass Boston. Prior to joining the ExCollege, Julie spent several years teaching high school in the greater Boston area.