Law, Technology, and Snacks? Intellectual Property for Innovators
Tufts Engineering alum Melissa Johannes (E'00) is making the principles and mechanics of intellectual property concrete, relevant, and exciting in her Fall 2019 ExCollege course.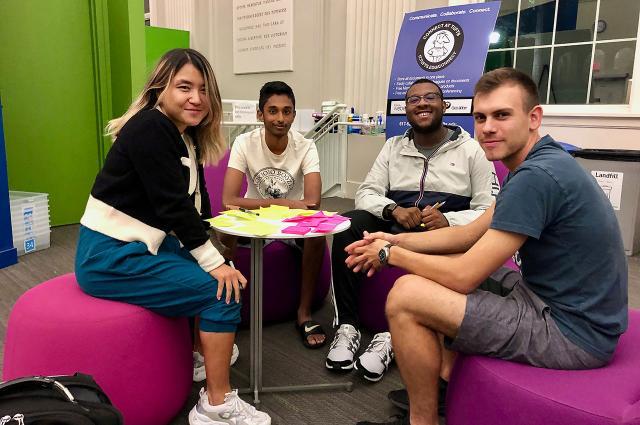 Students tackling how to optimize food ordering and fulfillment
How do we protect our ideas? How does innovation spring from real-world needs? Intellectual Property (IP) currently makes up over 35% of the total US economy, and intangible assets, like patents and trademarks, account for 87% of the market value of the S&P. Yet, what IP means at its core is still murky territory for most people.
Intellectual property attorney and Tufts Engineering alum Melissa Johannes (E'00) seeks to make the principles and mechanics of IP concrete, relevant, and exciting in her Fall 2019 ExCollege course, Law and Technology: Intellectual Property for Innovators. At the law firm of Wolf Greenfield, Johannes collaborates with startups, Fortune 500 companies, universities and hospitals to help protect and launch their inventions. She has designed her class as a hands-on approach to understanding patents, trademarks, copyrights and trade secrets. Students will have the opportunity to invent their own products while exploring what the patent process would look like for them.
To kick off the semester and get students to question how ideas for patents originate, Johannes asked students to identify needs at various locations on campus. Their observations ranged from "long coffee lines between classes to difficulty parking near the gym," and they began brainstorming IP strategies and solutions to address these concerns. Throughout the semester, they will engage with the various processes and obstacles to make their solutions a reality.
One of the fun ways Johannes clarifies IP for students is through a weekly "mystery snack" activity. Each class, she will share a "series of images from a patent on the process for making" that snack. Students then have to guess which food the patent refers to, how that snack represents good user-based design, and what issues might come up in patenting the idea. For example, students successfully guessed the patent for Scoops tortilla chips in three hints, including the following patent abstract and image of the snack during manufacturing:
ABSTRACT
The process for making a shaped snack chip uses various components to form a chip having depth such as a bowl-shaped tortilla chip. The chips are formed by sheeting into an initial flat shape. The chips are then passed along for shaping by a mold and plunger conveyor. Once plunged to the mold shape, the chips are reduced in moisture content by baking and frying. After frying, oil is evacuated from the chips whereafter salt and flavoring is applied, if desired, prior to being packaged.
Students then demonstrated how Scoops, a bowl-shaped chip, are a design-based product created for easier dipping. Similarly, they also discussed fruits and "why the trees of some—like Hass avocados or Honeycrisp apples—have been patented, and why some have not." Questions to ponder include: what might be complicated about patenting a natural process?
Johannes has invited multiple guest speakers to visit her course throughout the semester, so students will have the opportunity to understand how practicing innovators and other IP professionals go through these processes to make their ideas reality. Every class and activity is structured to help students "gain a practical and long-lasting understanding of IP...and practice and develop their already impressive abilities as creative thinkers, innovators, communicators and collaborators" in interdisciplinary ways.
It's likely that one day soon, we'll see the ideas of our own Tufts innovators become reality, too!
---
About the Author:
Zoe Leaf is a senior from New York City studying Child Study & Human Development and Food Systems & Nutrition. On campus, aside from working at the Ex College, she does research at the Child Health Equity lab, is a Co-Chair of the DREAM mentorship program, and is a leader with Peer Health Exchange and with FOCUS. When she's not running around campus, she can be found reading novels, watching Mad Men, and taking care of her many plants.